Michael Young is a lens-based artist whose work explores themes of masculinity, personal identity, community, and memory. He has been named a Top 10 winner of LensCulture Critics' Choice, a Top 50 artist in Photolucida's Critical Mass, and a winner of Feature Shoot's Emerging Photography Award.
Recent shows include Candela's Unbound12! and Una historia (no) tan rosa at Archivo Arkhé in Madrid. Young's images have also been exhibited in Portfolio 2023 at Atlanta Photography Group, Art of Pride at Southeast Center for Photography, Bodily Autonomies at Queer Festival Heidelberg, Center Forward 2022 at Center for Fine Art Photography, and Context 2022 at Filter Photo.
Young's work has been published in Musée Magazine, Fisheye, LINDA.meiden, and two issues of Der Greif. Online features, articles, interviews, and shows include LensCulture, Humble Arts Foundation, Fraction Magazine, Talking Photographs, The Guardian, Float, and F-Stop Magazine.
Hidden Glances is a series of photographs constructed from vintage gay pornographic calendars published between the years when I was beginning to recognize my sexuality as a youth until I came out.
Each image is an amalgam of two figures that originally appeared in the same calendar. In the top layer the male body has been spliced from his scene and the figureless image is laid on top of a second image. Through the negative space of the absent figure, a censured portion of the figure beneath is revealed. The construction is then photographed, thus bringing both layers onto the same seamless photographic plane.
This compression of space, along with the duality of revealing and concealing, become a metaphor for the numerous years when my gaze upon other men was tentative and fleeting, fearful that those stolen glimpses would expose my homosexuality.
Furthermore, the photographs remove the source material from their original intention—that of gratuitous imagery for sexual stimulation. A new narrative is constructed in which the viewer is invited to consider how pornography can be used to inform more reflective conversations about the male body, the coming-out process, and the struggles that so many gay men and I have encountered. On a more universal level, the work explores themes of self-acceptance, shame, fear, and personal secrets.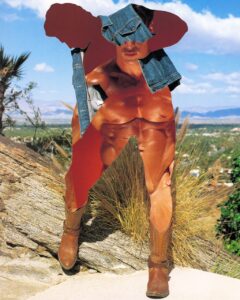 More information and sales inquiries
michael@mjyoungphoto.com